---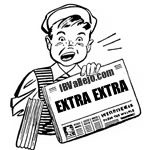 3/20/12 -- City Manager Keen has issued a memorandum providing a status report on policies surrounding Medical Marijuana Dispensaries. The document outlines issues of compliance with local codes and ordinances, county regulations and the legal conflicts with federal law. It also answers the questions around the apparent policy conflict between Measure C (proposed to tax and regulate dispensaries) and why the recent raids.
Read the document HERE
---
3/19/12 -- Obtainium Works has arrived in Vallejo. Here are some highlights from the ribbon cutting and dedication last Saturday 3/17. It was a great party in spite of the rain. Music, puppetry, insane gizmos and SteamPunks.

Proprietors Shannon and Kathy O'Hare, who are involved with Vallejo's Mad Hatter Parade are intent on producing their art and sharing with the community. A welcome addition to Vallejo!!

Obtainium Works is located at 510 Pennsylvania St.