| | | |
| --- | --- | --- |
| | | |
---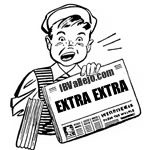 4/6/12 -- Here is a copy of the Notice of Intention to Circulate Recall Petition served Councilmember Gomes. It is identical to the one received by Councilmember Brown, except that the last proposed reason for recall, regarding Gomes' husband is included in Gomes' version only.
The names and addresses of all petitioners are, of course included. It shouldn't need saying...but we'll do it anyhow: VIB does not condone harassing the signers of this document in any way shape or form through their residence addresses or otherwise. Just don't.
View the document HERE

---
Pushing the BIG LIE
Recall petition based on outright falsehoods
By Marc Garman
4/6/12
On Tuesday April 3, Vallejo City Councilmembers Stephanie Gomes and Marti Brown were served with a Notice of Intention by a group who is seeking their recall from office. After a first failed attempt, it seems that the city clerk has determined that the petition is now "sufficient to proceed" and recall proponents may begin collecting the more than 8000 signatures (per) they will be required to submit in order to place a measure on the November ballot.
In this article we will take a look at each of the proposed grounds for recall and consider the veracity of each claim. The language on the document below will be followed by an examination of the facts, supported by documentation where possible. Notice of Intention language is in black. Analysis by VIB is in RED.
Discouraging new business investment and refusing to support measures designed to raise the revenue needed to provide a reasonable level of City services.

---
This Discouraging new business investment stuff has no apparent basis in fact. In actuality, Councilmembers Gomes and Brown both supported the recently approved Winco store to be built on the old Elks Lodge property. Also supported projects include
Lowe's – Gomes & Brown

Toys R Us – Gomes & Brown

CDDS Shipbreaking – Gomes & Brown

Blu Homes – Gomes & Brown

Black Bear Diner – Gomes & Brown

Rite Aid – Gomes & Brown

Mi Pueblo Market – Gomes & Brown
Gomes also worked on the Solano 360 Fairgrounds Project with Mayor Davis in an ongoing effort to bring millions of dollars in new development to Vallejo.
If anything caused a decrease in city services, specifically safety, it was the 6.29% raise granted to Vallejo's highly paid police (among the highest in the State) while the city was in bankruptcy. This forced the city to retain fewer but more highly paid police. This agreement was opposed by Councilmember Gomes. Councilmember Brown was not yet on City council for this vote.


Interestingly, Police Chief Robert Nichelini characterized the position of VPOA (Vallejo Police Officers' Association) at the March 24, 2009 City Council meeting as "Cut the staff as much as you want, we wanna be paid." Unless the Chief of Police is a liar, it would seem that Vallejo's police placed pay above staffing, not councilmember Gomes.
VERDICT: A combination of opinion, speculation and misinformation
Working to reduce public safety, including police and fire services, making Vallejo an unsafe place in which to live, work or conduct business.

---
Councilmember Gomes, as well as a number of outspoken citizens cautioned that promising raises we cannot afford will result in a reduction in the police force and other services. Had the council majority taken Gomes' position, Vallejo would likely have more police. Councilmembers Hannigan, Sunga, Bartee, Wilson and Mayor Davis voted to increase police wages while the city was in bankruptcy. If anything, they are the ones culpable for the reductions in police service Vallejo has seen

Councilmember Gomes has worked to create Vallejo's Anti-Graffiti Task Force (using paint donated by Recology Vallejo, a grant from State Farm Insurance and citizen volunteers.) Both Gomes and Brown have supported security cameras in Vallejo's downtown as well

Most notably, Gomes and Brown both support, and were instrumental in creating Vallejo's newly formed Public Safety Committee. While there is a measure of discomfort surrounding this avenue for new ideas, it is a means to look for ways to improve public safety through citizen input with Vallejo's limited resources.


VERDICT: An exercise in blaming the wrong party
Publically recommending and supporting the lowering of police officer and firefighter employment and training standards thereby endangering the Public's safety.

---
Councilmembers do not have decision making authority over public safety employment or training standards. P.S. Check your spelling: PUBLICLY is correct folks.

VERDICT: Baseless and unsubstantiated nonsense designed to play on fear
Attempting to influence the City Manager's personnel decisions in direct violation of the City Charter Section 503, a misdemeanor punishable by removal from office.

---
Neither Gomes nor Brown have ever been formally accused of or found acting in violation of Vallejo's City Charter in any way. If the petitioners believe a crime has been committed, they should provide documented proof. Unless Vallejo's City Manager files a claim indicating that a section 503 violation has occurred, this would seem to be an outright lie. In fact, Vallejo's City Manager Dan Keen has responded via email indicating that NO SECTION 503 VIOLATION HAS OCCURRED in connection with Councilmembers Gomes or Brown.

See Mr. Keen's email (private info redacted) HERE.

VERDICT: Petitioners are hoping Vallejo Voters are stupid enough to believe a BIG FAT LIE
Refusing to abstain from voting on Labor Agreements that directly affect her husband's retirement compensation.

---
Councilmember Gomes only: Forget it. Never happened. According to all records and documents available, Gomes has never voted on a labor issue that represents any conflict of interest.

See attached statement from FPPC (Fair Political Practices Commission) HERE

VERDICT: Another Giant Baseless LIE
It is indeed unfortunate that the proponents of this recall are willing to sign their names to string of outright lies in order to achieve their political goals. In the next installment of our examination of this recall effort VIB will get up close and personal with each of the 30 proponents on the Notice of Intention and explain the connections they have to special interests, political affiliations, other agendas and whose interests they are really working to protect. Let's just call it a SPECIAL INTEREST FAMILY TREE.
VIB welcomes recall proponents to bring forward documented proof that supports any of their arguments. This means actual, official and verifiable evidence. All else is gossip. We expect the clamor of hearsay to be monumental and the absence of proof to be deafening. Bring it