| | | |
| --- | --- | --- |
| | | |
---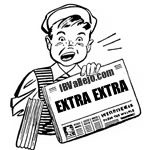 The Ad-Hoc Citizens Public Safety Advisory Committee will meet Monday, September 10th at 6:30 p.m. in the City Hall Council Chambers, 555 Santa Clara Street, Downtown Vallejo. The meeting will broadcast live on Channel 28 and live streamed on the City's website.

Joseph Kreins, Retired Novato Chief of Police and Interim Vallejo Police Chief will make a presentation regarding Novato's civilian police review commission. Questions regarding meeting topics or other issues within the scope of the committee can be e-mailed to: This e-mail address is being protected from spam bots, you need JavaScript enabled to view it

Additional information about the committee is available on the scrolling section of the City of Vallejo website.
---
The Big Box Beat


With Joe Feller----Aging Punk Rocker and Entrepreneur

A Look at Small Business--Big Box Development--and What it Means to YOU!!!
---
Wal-Mart Neighborhood Market Looking at Mervyn's Property
9/6/12
With the news that the Mervyn's on Sonoma Blvd. is going to be re-opened as a Wal-Mart Neighborhood Market, we should review what this format of a store is. It is a grocery only format with pharmacy which competes directly with both the traditional grocery store and so called discount stores. This store encompasses approximately 55,000 sq. ft. of which 43,000 sq. ft will be the sales floor. This is about twice the size of a standard grocery store and maybe 3 times the size of a discount store like Smart & Final or Grocery Outlet. This will not be a standard Wal-Mart or even a supercenter. It will focus strictly on groceries and pharmacy items. There are several of these stores being rolled out including store 5610 in San Ramone (ours is store 5609)
With the addition of Winco's grocery discount store, this will add between110,000 sq. ft. of discount groceries to the city of Vallejo. For full disclosure, I am a participant in the litigation of Winco's EIR and it is not a sure thing that they will complete their project at the end of their case. The most interesting thing that came out of the Winco EIR is that there are 17 active stores within 10 miles and, if we throw out stores in Cordelia and Benicia, there are 14 stores. Now the EIR missed Mi Pueblo as it had not opened and 2 ethnic grocers, the Vargas Store in North Vallejo and the Asian Market on Springs road, so we are back at 17. If we throw out all stores south of Redwood St, we discover that there are 13 stores (although Grocery Outlet is so close to Redwood, it is debatable if that should be tossed or not).
I believe that it is time to bring some new ideas to planning for the City of Vallejo.
1st "The Problem". Right now Vallejo is over supplied with Retail. According to the Winco EIR there is 5.7 million sq.ft. of empty retail (pg. 230 of the draft EIR). This was as of 2010 and I know that has come down somewhat with the addition of stores in the Northgate Center and the Target Center. So Erin Hannigan's estimate (backed by staff) of 300,000 sq. ft. of empty retail is wildly off the mark. I estimate that there is 500,000 sq. ft of empty retail based on an analysis I saw during the Fairgrounds debate. But to be as accurate as possible, it is best to go with the higher figure as it encompasses sites like the old Bill Lang Cadillac and K-Mart, but also includes green fields like the east side of the 80 corridor north of Highway 37 and Columbus Parkway which are currently zoned for retail.
In 2007, the City of Fairfield studied all of the zoned retail in Solano county and discovered that the . This was before the Great Recession and the gutting of retail sales by the internet.
This most relevant statement in the Winco EIR was as follows:
"In the food stores category, which is the category most relevant to the Winco Foods, sales were
characterized by a slight level of attraction, totaling 4.8percent of sales (attracting out of Vallejo sales). This result indicates that there is no excess demand for grocery sales that is currently not being met by retailers in the market area." pg. 229 draft EIR.
So if there is no unmet demand for groceries where will the new stores sales come from. It will come from cannabilizing existing stores until they are driven from business.
2nd, "the Wal-Mart Problem". Wal-Mart currently controls the property at Redwood and Sonoma Blvd. They had the site listed for sale, on their website, until sometime last year. It is interesting that it came down after Winco began looking for available properties in Vallejo. So this is 72,000 sq. ft. of retail under roof (as currently zoned), and 7+ acres of severely blighted waterfront property.
In addition, Wal-Mart has responsibility for the existing empty old Wal-Mart location. During Wal-Mart's testimony on Vallejo's Big Box Ordinance, Wal-Mart promised that their existing facility would be re-leased and utilized after the site closed while they were opening their American Canyon Store. During their EIR testimony they promised the store would re open within a year. This was five years ago and it is still empty. The current status of the property is unknown. Home Depot announced internally that they had the lease and would use it for a "Pro Store", but nothing ever came of those declarations. Either Wal-Mart controls the property or will again at the expiration of the lease they signed.
So that was the little lie of Wal-Mart when it applied to develop the old K-Mart location. The second lie was that they were going to develop the K-Mart location! At the time, Wal-Mart proceeded with its proposed EIR and attempted several subterfuges to undermine the Big Box Ordinance. These included hiring ringers for the Draft EIR and for the staff position to evaluate the EIR. Even though the consultant for the EIR and the staff position to evaluate them works for the City Manager, they would have been funded by Wal-Mart. Thanks to the vigilance of Stephanie Gomes, this was averted and both the EIR consultant and the staff position had no connection to Wal-Mart. Wal-Mart still went ahead and secured the city council's vote to change the zoning on the site to allow the 300,000+ monstrosity on the site as proposed. The Council voted 4-3 to allow Wal-Mart to proceed with their EIR. This vote directly killed the one type of grocer that Vallejo lacks, a truly upscale grocer along the lines of Whole Foods. The Nugget Grocery store felt betrayed by the Council as members of that group and the Planning Commission had assured the grocers that "Wal-Mart would never be approved in Vallejo". So after spending over a million dollars (the pad is still visible in the Northgate Shopping Center), the Nugget withdrew from developing a store in Vallejo. After being thwarted by not being able to hire a crony consultant, and driving the Nugget from the Vallejo market, Wal-Mart withdrew its application claiming the EIR would be "too expensive" to continue.
Possible Solutions
The big complaint by Winco was that they had spent over $300,000 on their project (not including whatever they paid the Elks Lodge) before they had a clue that there would be community opposition to their plan. What the city of Vallejo needs is a Community Impact Report that alerts citizens to quality of life impacts before the developer expends hundreds of thousands of dollars on their project. These have been implemented in other communities and would allow citizen's a certain amount of visibility before a project has so much momentum that it can not be stopped.
A second solution would be to require anyone that requests a business license in the City of Vallejo would have to have be blight free before receiving a new license to operate in Vallejo. This means that their existing property would need to be Leased and occupied before they could occupy a new location in the city limits. There could be an escape clause that would require them to reduce their property to a natural condition in order to leave. Currently, too much of our empty retail is being used by the homeless. This creates a hazardous living environment for the homeless but for our police and fire as the Bill Lang and K-Mart site both attest.
Finally, we need to reduce our big box ordinance to 20,000 sq. ft. of non taxable sales. If both the Winco and Wal-Mart go into business, it is likely that we will lose an equivalent amount of grocery space. This will reduce competition and reduce choice in Vallejo. With a 20,000 sq. ft limit, Vallejo would be able to control its environments.
In summary,
Wal-Mart will drop its prices until it reduces competition to its 2 stores in Vallejo and American Canyon. They couldn't do it with a Supercenter but will now attempt it with a Neighborhood Grocery. The goal with Wal-Mart is always market share not initial profitability. The profitability will come with the market share and the steep reduction of competition.
We can see that Wal-Mart does not give a crap about Vallejo. A horribly blighted K-Mart site that has worsened under 8 years of neglect by the largest corporation on the planet. A blighted Sonoma Blvd. site that Wal-Mart has not ensured was occupied in spite of their protestations. An empty pad directly resulting from Wal-Mart's cynical exploitation of a weak city council. We gain nothing with a Wal-Mart in Vallejo.
Let us work with the City to get a new general plan that specifically addresses these issues of blight. Let's update our Big Box Ordinance. Let us reclaim ownership of our own town