| | | |
| --- | --- | --- |
| | | |
---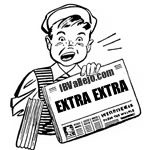 REP. MIKE THOMPSON TO HOST GUN VIOLENCE PREVENTION PUBLIC FORUM
In light of the events in Newtown, CT, in December, Mike was chosen to lead a Congressional Task Force on gun violence prevention. We're having a series of public forums to solicit input and hope you can make it Wednesday in Vallejo.

WHO: Rep. Mike Thompson, Congressional Gun Violence Prevention Task Force Chair,
Law enforcement officials, mental health experts, school officials, elected officials, community members
WHAT:
Gun Violence Prevention Forum
VALLEJO:
Wednesday, January 9, 2013
7:00 – 8:30 PM
Vallejo City Hall - Council Chambers
555 Santa Clara Street
Letter from Congressman Thompson HERE

---

Educating the Masses,

But Only A Little
January 7, 2013 Joint Meeting of Council and Planning Commission




By Monica Tipton
1/8/13
After a lengthy presentation by a series of guest speakers, Mayor Davis once again begins his lecture by stating that the citizens of Vallejo are both ignorant and inattentive to his teachings. The topic this week was Solano 360. He wants us to believe that he knows everything that needs to be known about this project, and that we should just listen to what he is saying to get a clear picture of the scope of this $90 million project that is in alignment with the City's outdated 1983 General Plan. He is telling us that we will all benefit from investing in a fantasy all-purpose fairgrounds/retail/amusement park/restaurant row/parking complex/transit center on a piece of prime real estate owned by the County and financed by a series of assumed revenue sources that will reach its full fiscal return in about 50 years after contributing to traffic congestion, further reduction of city services, and reduced air quality. What did he just say??? This writer will be 110 years old. Can't wait for my dividend...
"This is a bold step forward," he declares from the sanctity of his podium/lectern.
This is a bold step right into the 20th Century.
As one who used to supervise and evaluate teachers and administrators, I feel more than qualified to evaluate the mayor's skill at keeping his constituency up to date on topics of concern. I shall begin.
Your lecture notes are old, Mr. Mayor, your teaching methods outdated, and what you are teaching has no relevance to the needs of a recently bankrupt, severely underserved, impoverished city in the 21st Century.
Mr. Davis ridicules his students for not knowing the subject matter when he has clearly forgotten to give the lectures. He scolds us for not having paid attention in his class five years ago, failing to remember that the rest of us just enrolled. He is insistent that we should already know this material because he has been teaching this same subject at the same way in the same room for many years. Mr. Davis says it's as though we don't trust him to do the best thing for us as students. He is absolutely correct: we don't trust him.
He declares, "You have to know what you're doing when you are reading these documents," implying that clearly none of us are educated or intelligent enough to read the pertinent plans, reports, and spreadsheets ourselves in the 48 hours provided for us to study them. "We need to break it down into simple laymen's terms so you all can understand." No, Mr. Mayor, you need to keep us informed by answering our questions. Socrates is cringing, and so are we.
Mr. Davis is depending on textbooks, his lecture notes, and a filmstrip or two (remember those?) to illustrate all that we need to know as voters. Communication with the citizens of Vallejo is improving thanks to efforts by the city manager. However, the city is still inordinately reliant on the Times-Herald, a paper whose circulation is down, whose editorial policies support the disastrous actions of past councils, and whose reporting is generally two to three days out of date. Using original sources for instruction is the 21st Century way of teaching, Mr. Mayor, not relying on the obsolete tools of the past.
Mr. Mayor, I am placing you on an improvement plan. You will be observed regularly, and the progress of your students will be monitored closely. You are to submit lesson plans weekly. You are expected to use the resources available to you to improve your teaching performance and to search out and implement methods of instruction that are proven to be effective with similar populations on similar topics. If no such methods exist, you are expected as the instructor to develop those methods of instruction. We will meet twice monthly to assess your progress. I am always available to support your efforts toward these objectives and your goal of improved performance.
You can demonstrate your intent to meet the needs of the learners by saying, "Apparently Council and the Board of Supervisors have not done a thorough job of informing our constituency."
In reality, we did not elect you to be our professor; we elected you to be our mayor. While yours is a symbolic position, it is not that of prophet. Your job, along with the rest of the City Council, is to solicit input and to listen to the citizenry. It is to provide us with the information and the rationale that drive the decisions made on our behalf. When you insult us, we do not listen to you. Sometimes the lesson is very simple, Mr. Mayor.
Note: All opinions expressed in the "Primal Scream" column are those of the writer and not necessarily those of the Vallejo Independent Bulletin