| | | |
| --- | --- | --- |
| | | |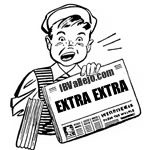 Does Your Vote Matter?
By Katy Miessner
Posted 01/23/2008
Apparently not to the Solano Board of Supervisors.
If you are concerned, please get involved!
Yesterday, January 22, Supervisor Barbara Kondylis requested that the Solano County Board of Supervisors place on their agenda, a resolution to establish an election advisory committee. This proposed committee would assist in achieving voter confidence by having a this bipartisan committee, appointed by the Registrar of Voters, oversee voting, including accessibility in general, handicap accessibility, early voting information and testing of machines and systems. The proposal was to have this committee, similar to one already established in Marin County, consist of representatives from the Republican and Democratic Central Committees, a person representing the handicapped community and a member of the grand jury.
After the proposal failed, Supervisor Kondylis reflected that the Board is assuming the public trusts them (the Board) to do the right thing when the Board obviously demonstrated that they did not.
Her sentiment was echoed quite clearly with Supervisor Mike Reagan's closing comment. Reagan indicated that he does not care about machine and human counting errors-both that were well documented in Vallejo's recent mayoral elections and admitted to by the Registrar.
Reagan believes that controls put in place should only ensure that there is no possibility of intentionally changing the system-he thinks the purpose of the system is to make sure that no one change the count without high probability of detection.
Reagan admitted that there is always the possibility of machine errors and errors when people count. So Reagan thinks it's OK if errors throw an election if they are not perpetrated intentionally? Now I have even less confidence in the oversight of Solano County elections, since it seems to be OK with the Board of Supervisors (excluding Kondylis, the only sane voice) that our elections are rife with machine and human error.
I am personally concerned, not only about all the errors but because at the December 11th meeting, I witnessed the Registrar of Voter Ira Rosenthal, give the Supervisors false information about the recount. Information I know to be false because I participated in the recount and I have proof and am willing to testify in court. My great-aunt was a suffragette-fought to attain a woman's right to vote-and so I take my vote very seriously. I'll be damned if I sit by and allow my vote to get lost the Registrar of Voter's sea of mismanagement and in the Solano County Board of Supervisors lack of interest, and I encourage all Solano County residents who are concerned about their votes being counted to get involved.
Since voters will not get relief from the Board of Supervisors, Gary Cloutier is personally taking steps to correct this situation. His only recourse to address the Registrar's errors is to file a challenge against Osby Davis, the declared winner of the mayoral election. So the Registrar gets off scot-free and Cloutier & Davis have the burden of going to court to correct the registrar's error. It's too bad that election law does not allow the registrar's office to be sued. Read more about Cloutier's efforts at www.garyformayor07.com
And, please attend these two meetings to find out more and express your views:
Registrar of Voters at the Democratic Committee
When: Tonight, January 23, 2008 at 7:00 pm (his is the first item on the agenda so plan to be there at 7PM sharp)
Where: County Government Center, 675 Texas Street, Suite 600, Fairfield CA
Registrar of Voters, Ira Rosenthal and Assistant Registrar Lindsey McWilliams will speak at Solano County Democratic Central Committee meeting to discuss the issues of the Mayorial recount fiasco and what is in store for the coming elections this year.
Please attend if you have questions and comments on the election-this will be an excellent time to speak with these two. There might also be a speaker there to discuss the open voting system.
Election Results Meeting hosted by Gary Cloutier
When: Sunday, January 27, 2008 at 4:00 pm
Where: 733 Tennessee Street, Rick Mariani's photography studio
With the confusion about the election and contest, Cloutier believes it is necessary hold a public meeting where he can discuss what he knows about the election results and explain the necessity for the contest. He has sent a letter to every household in Vallejo which voted in the last election and inviting them to attend.
The meeting will be a forum to discuss the election and contest. Supervisor Kondylis will be there as well as possibly a staff member from the Secretary of State's Office.