Wal-Mart Withdraws from Vallejo
A Few Words From Joe Feller
5/31/08
VIB Readers
This afternoon, I was in the middle of a project for my business when an unfamiliar number showed on my cell phone. It turned out to be the Times Herald asking for a comment on Wal-Mart's withdrawal of their application for a Supercenter on the White Slough. Needless to say, it was an important moment. It is a victory for the citizen's of Vallejo and shows that we can beat the most formidable opponents if we stand together.
Click HERE for the rest of this article...


The Big Box Beat

With Joe Feller----Aging Punk Rocker and Entrepreneur


A Look at Small Business--Big Box Development--and What it Means to

YOU

!!!

5/28/08

Hello VIB readers,

What a great vacation. I took 3 days and went up outside Yosemite, to fish and relax and just plain get away. My nephew has proved to be a chip off the old block as he proudly showed me his Primus video with the band out fishing in San Pablo bay.
Click HERE for the rest of this article...
The Sunday Funny !!!
May 25, 2008
---
---
Another wild and wacky deal considered behind closed doors??
Perhaps we taxpayers deserve a little more transparency in City Hall !!!
---
Editor's note: As there has been some reaction to a perceived racial message in this cartoon I felt it necessary to clarify the cartoonist's intent. The metaphorical use of a "monkey on your back" is intended to communicate a message in line with the definition that follows:
a monkey on your back:
a serious problem that you cannot forget.
When you know you have to do everything perfectly, it puts a giant monkey on your back.
Usage notes: also used in the form
get the monkey off your back
to end a problem
:
By winning the championship, this team has finally got the monkey off its back.
Etymology: based on an earlier meaning of a monkey on your back (= a habit of using an illegal drug)
Cambridge Dictionary of American Idioms © Cambridge University Press 2003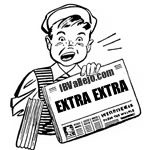 Vallejo Bankruptcy Official

May 23, 2008 10:29 AM- -Just in!!!!!!!!


The City of Vallejo has filed a petition for protection under chapter 9 bankruptcy in federal bankruptcy court.

We are in Chapter 9 Bankruptcy.

---
Vallejo Bankruptcy Filing Documents
---
| | |
| --- | --- |
| | |
Apparently Vallejo has been talking to Calvin Grigsby
to find out more click the links below:

---
5/22/08 San Francisco Chronicle Article

---
Grigsby indicted in an FBI sting: Money under the table for a piece of San Francisco businessman Calvin Grigsby's $180 million bond deal to refinance debt" (Miami FL)
http://www.miaminewtimes.com/2002-06-20/news/native-son/


---
Grigsby has a shady past (Birmingham Alabama)
http://bhamweekly.com/blog/2007/04/30/politics-bond-dealer-has-shady-past/


---
---
For almost a decade, many Oakland leaders have either been catastrophically wrong about their city, or else they've been lying to us to make money for their friends, including Grigsby apparently (East bay Express)
http://www.eastbayexpress.com/news/oakland_can_do_one_hell_of_a_lot_better/Content?oid=291318



---
The Perata connection: Perata fined for failing to report income from clients, including financier Calvin Grigsby
http://www.publicintegrity.org/oi/iys.aspx?st=CA&sub=pub
---
The Plot to Oust Randy Ward, The School Chief didn't quit; he was forced out by his boss. Although his smart property deal could pay off Oakland's debt, he also go got caught between Jack O'Connell and Don Perata...
Miami(AP) A far reaching corruption probe in Floria apparently has brought down the nation's biggest minority owned municipal bond firm and one of it's founders.
Controversial Laney College ContractPut on Hold. Peralta Chancellor Elihu Harris revealed Tuesday that he halted negotiations on a plan to develop commercial uses for Laney College properties because of a perceived conflict of interest for one of the participants.
http://www.berkeleydailyplanet.com/issue/2004-12-17/article/20304
---
After Gary's antics and the beguiling tease provided by Burke's attorney, this latest phase of Operation Greenpalm has provided yet another odd twist. The case was assigned to U.S. District Court Judge Ursula Ungaro-Benages. The assignment to this particular judge was completely random, but parties on both sides of the case are wondering about its impact. Ungaro-Benages is married to Michael Benages, a county lobbyist and local political insider. Would this fact favor the prosecution or the defense? Could it raise a possible conflict?
http://music.miaminewtimes.com/1998-01-29/news/witness-hampering/
---
<< Start
< Prev
131
132
133
134
135
136
137
138
139
140
Next >
End >>
Results 1530 - 1540 of 1605