| | |
| --- | --- |
| | |
---
4/24/13 -- Vallejo PD nab suspected North Vallejo Little League shooter. Press release HERE
---
4/24/13 -- New Farmers' Market in Vallejo
Omega Certified Farmers' Market
Continentals of Omega Boys and Girls Club to hold Farmers' Market on Wednesdays at the Boys and Girls Club: 1 Positive Place -- Vallejo CA 94590 -- Starting TONIGHT 4/24/13 from 3-7 PM and every Wednesday through 10/30/13. INFO: contact Wendy Jones 707-643-1728 -- This e-mail address is being protected from spam bots, you need JavaScript enabled to view it
---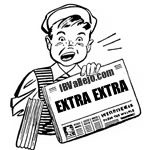 Community Forum Fairgrounds Redevelopment Project (Solano360)
With more than at stake, a development agreement that commits up to to the project, and major changes being made to the General Plan, this is a vital issue to Vallejo residents.
Come learn about financial, environmental and community impacts---and make your voice heard. Together we make a difference.
When: Thursday, April 25, 7--9 pm Where: Dance Unlimited, 510 Georgia St, Vallejo
10 minutes, Welcome and Introduction, Doug Darling of Friends of Lake Chabot
20 minutes, Overview of Project Finances, Dan Levin
20 minutes, Environmental Issues, Anthony Adams
question and answer and discussion period to follow
Can't make it? Please show up at Monday's Planning Commission Meeting
(4/29) at City Hall. Bring a friend. Speak out or just be there to support
your friends and neighbors.
---
The Attitude Has to GO
4/24/13
By Jim Davis
The council has extended the moratorium on cannabis dispensaries. What does this mean in practical terms? Not much, other than the inability of patients to get their cannabis and the loss of more revenue to the city. The city's fantasy about dispensaries disappearing into thin air is not likely to materialize. The whole state voted to allow them. The whole city voted to tax them. Our recalcitrant leaders will have to accept those facts sooner or later. Sooner would be better.
Click HERE for the rest of this article...
Other Pay
More Surprises than a Walrus with a Fruit Cake
By Robert Schussel PhD.
April 22, 2013
Purpose
The purpose of this analysis is provide a greater understanding of the "Other Wages" that the City of Vallejo employees received in calendar year 2012.
Background
Recently, VIB received spreadsheets containing City of Vallejo 2012 W2 wages. As noted in my previous analysis of 2011 wages, "Other Wages" are a smorgasbord of items that range from Bankruptcy Settlement Payouts to Smog Differential Pay. See Glossary for a description of many of the "Other Wages".
To get a better idea of what comprises the $6,468,900 of "Other Wages" the City of Vallejo Finance Office supplied a spreadsheet that listed 51 categories and the total amount paid out for each category.
Click HERE for the rest of this article...
Rough Day for Vallejo PD

4/18/13 -- At approximately 5:30 PM today two police cruisers in high speed pursuit crashed into slower moving traffic they apparently were not able to avoid as they accelerated up the rise of the Springs Rd. highway 80 overpass towards Miller St..

One police cruiser ended up at the bottom of the embankment adjacent to the overpass on the Miller St. side.

It seems pretty clear both cars are totaled (electronics etc. likely salvageable).

Fortunately, there were no serious injuries. A total of five cars were involved in the incident.
3/15/13 - Next month, our community will come together for its first ever Participatory Budgeting Vote to help decide how to spend $3.2 million to improve Vallejo. You will have dozens of projects to choose from, including economic development projects, street safety upgrades, investments in local schools, park improvements, public safety measures, and so much more.




All the projects will be on display at the Participatory Budgeting Expos starting this Wed!

READ MORE:
---
4/15/13 -- Justice for Mario Romero Foundation to hold rally tomorrow at 355 Tuolumne St. to demand "PROSECUTION OF VALLEJO POLICE OFFICER DUSTIN JOSEPH" Read PRESS RELEASE HERE
---
---
Lynch Canyon Kite Festival with Angelo

4/15/13 --It's been so windy lately...who wouldn't wanna fly a kite! Here are some highlights of the Lynch Canyon Kite Festival held over the weekend. Ah...the Sun, the wind, the color. Angelo running up an down the hillsides snapping away glassy eyed, like a pixel obsessed cross between Heidi and Maria Von Trapp sans dress.
<< Start
< Prev
1
2
3
4
5
6
7
8
9
10
Next >
End >>
Results 23 - 33 of 1362