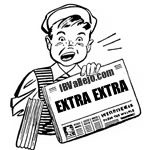 Exclusive!!!
Inside Leak Spills Beans to VIB

4/1/08
By Marc Garman
It would seem that four members of Vallejo's city council (yes, those four) have been engaged in devising a plan to rescue Vallejo from its current precarious financial situation.
We at VIB find ourselves both shocked and impressed, but a little uncertain as to the feasibility of what can only be termed a highly innovative and unconventional idea. Remarkably, it would seem that some of the campaign promises we had in the past considered mere claptrap might have some substance after all!!!
If this idea works, and it is by no means certain, we will be the first to admit we were wrong and sing the praises of the "fantastic four".

The plan we refer to is nothing less inconceivable than the outsourcing of the logistical aspects of Vallejo's fire safety duties to India.
Yes, it apparently can be done--and at a tremendous cost savings to Vallejo. By utilizing satellite surveillance, a high speed digital uplink and infrared imaging, initial fire safety services can be provided remotely. Here's how it works:
First, specially designed prehensile fire hydrants will be installed at regular distances from residences and other structures. These hydrants are tied directly to the water mains and are able to direct a stream of water for hundreds of feet. Furthermore, they do not require sleep, a paycheck or need to have medical or retirement benefits. They will not engage in UBL.
Pictured below are Edwin and Ignatius Bohunk of Bohunk Enterprises located in Weehauken, New Jersey. They are displaying their latest product, the Satcon Hydromat. A product that may soon be installed in considerable numbers throughout our city.

While the initial cost of this system is an issue, the long term projection indicates tremendous savings.
But what about that India stuff? Well, here's the deal:
Emergency calls will be automatically directed to a command center in the Eastern India city of Madurai.
(pictured below)
Where, as you can see highly skilled and trained operators will handle the calls and, by high speed satellite connection direct the action of the Hydromat units on the ground in Vallejo.
We now know that the blank stares and inability to construct a cogent question on the part of some council members (?!) has not been due to a lack of interest, intelligence or initiative. It is the result of exhaustion from an almost constant airborne odyssey--jetting between continents--to insure that this program is right for Vallejo. Such devotion and diligence is commendable to say the least!!

Of course, there will be a need for trained personnel on location. The projections we have seen suggest that fire safety personnel could be reduced to 15 or 20 total for the City of Vallejo.
At this time we do not have a full calculation as to the savings, but it is sufficient to say that Vallejo could see solvency sooner rather than later.
If this plan works, we can only extend our most heartfelt apologies to any council members we may have doubted. Your campaign promises of "straight talk, hard work and innovative thinking" will have been like golden dew on the lips of angels.
Perhaps the day is near when only joy and light will stream from the chambers of our beloved city council.
And if you think this might be a load of doo-doo click HERE