---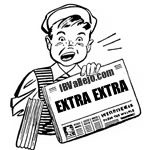 6/26/12 City Council:
BUDGET APPROVED – $1 Million in measure B funds allocated for police but only for second tier hires – This is BIG – This is an opportunity to hire five police officers...But will VPOA tell council and citizens to stuff it with "Cut the staff, we wanna be paid" routine again? Current average total comp per police officers is around $230,000 each, but second tier savings to around $200,000 per cop could mean more officers on the street. This deal will not touch current police benefits. Hard talk on dais about realities of pension reform too.
Budget to also yield new hires for economic development and code enforcement, update to General Plan, infrastructure improvements and improvements to public safety dispatch. Shockingly approved by a unanimous vote of the council. Full report to follow.
---
Epic Fail Five
Told by an idiot, full of sound and fury,
Signifying nothing.
quote from Macbeth by William Shakespeare
6/25/12
By Marc Garman
According to an announcement posted by recall front man Sam Kurshan, the effort to recall councilmembers Stephanie Gomes and Marti Brown has been called off. The statement posted by Kurshan on the website recallcouncilmembersgomesandbrown.com indicates that the effort has been cancelled due to a lack of time remaining to put the measure on the ballot in November. A special election costing upwards of $800,000 would be required if the November deadlines are missed. Considering the number of clerical errors on the part of Kurshan (Epic Fail 1-4) it is unsurprising that the effort died on the vine. That Shakespeare guy had good insight.